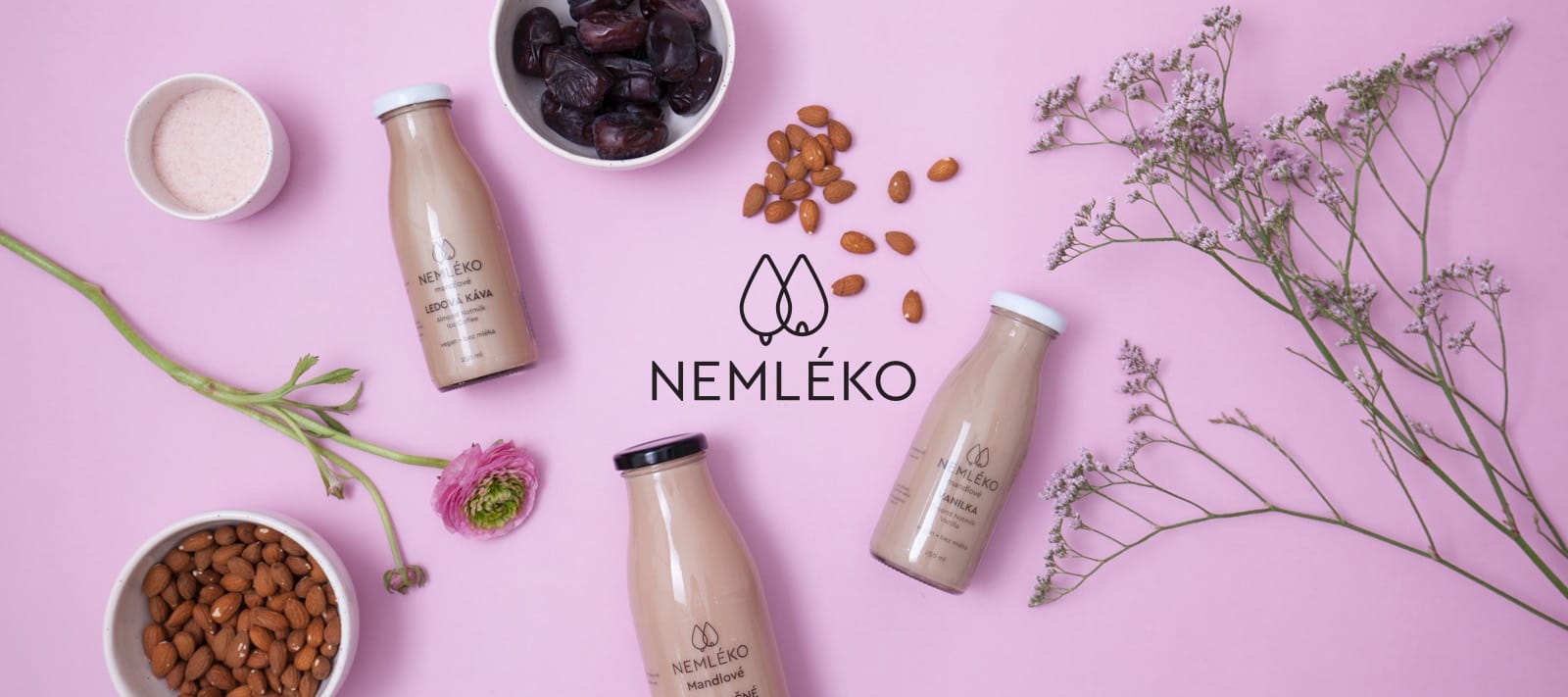 What is Nemléko (Notmilk)?
Nemléko is a Czech brand for those who cannot or do not want to consume lactose. It offers pure plant-based alternatives to dairy products without the use of chemical preservatives or other additives.
What Do We Produce?
Our Nemléko family has grown quite a bit since our beginnings. First, we started producing almond Nemléko. Thanks to our dear fans who contributed to our Hithit campaign, we were soon able to create a poppy variant as well. Things started to pick up quickly and we began producing other products besides beverages. Currently, our portfolio includes almond and poppy Nemléko in several flavours, almond Nejogurt (Notyoghurt), Nemáslo (Notbutter) and two organic ice teas from our daughter brand Yestea. And we are still figuring out what other products might suit your fancy. 🙂
Poppy Seed Nemléko
250 ml
1000 ml
The story of Nemléko began along with our own. Originally, we used to drink our home-made vegetable milk to start our mornings together. But then we got the idea that we would like to share it with more people.
So, one spring morning, we found ourselves standing nervously at our improvised stand on Náplavka in Prague – and that was the start of Nemléko. The response was surprising to say the least. We went from dozens of bottles to hundreds in the blink of an eye, and moved from the corner of a kitchen to the first rented space.
However, our savings began to wear thin quickly and so we started pondering first investors. However, eventually we once again turned to our fans – and they did not disappoint. Our crowd-funding campaign "Fall in Love with Nemléko" raised half a million crowns and we could fulfil are great dream and our promise – to begin producing poppy seed Nemléko alongside almond one.
Today, Nemléko is our everyday joy and sorrow. Through it, we try to express our world view – playful and environmentally friendly. And above all, we are glad that we can make your mornings together better as well.
Thanks to our great fans, who believed in Nemléko from the very beginning, and those who simply enjoy our products, our Nemléko team is slowly growing and with it, so does our portfolio of products. We have buckets full of ideas, but we still stand with both feet firmly on the ground. The most important thing for us is to ensure our philosophy and quality of products keeps to the highest standards. Every bottle is made with as much care as in the beginning, when we made Nemléko in our kitchen at home. It is our goal that our products bring you as much joy as they do to us.
Amálie & David
Frequently Asked Questions
What are Nemléko products made of if NOT milk?
The main ingredient of our products is either almonds or poppy seeds.* High ratio of the main ingredient guarantees our products have a delicious and rich taste. We don't put in any unnecessary additives, and sweeten only with dates, not sugar.
*You can find information about the composition by each individual product.
How long will the products last?
It's different for each product. Poppy and almond Nemléko will last 3 weeks since the production date. It is best to consume the product as soon as possible after opening, but if handled correctly, it will last a few days afterwards as well – even up to 4. Nejogurt will last 21 days and Nemáslo 14 days since production. All products must be stored in a refrigerator at temperatures up to +8 degrees.
What can Nemléko products be used for?
Nemléko can be used anywhere where you would use its dairy equivalent – in cereal, pancakes, in baking, or in soups and sauces. Nejogurt is best either on its own, as a smoothie with fruit or prepared as a salty dressing for a salad or tzatziki. Coffee is best made using semi-skimmed almond Nemléko; you can easily froth and steam it to make a cappuccino 🙂 Nemáslo is at its absolute best when spread on a fresh slice of yeast bread, with marmalade or chives. It's also ideal for baking various pies, vegetables or for pasta 🙂 You can find more inspiration and recipes on our blog called Nemléko v kuchyni 😉
What to do with the bottle when I'm done?
We're working intensively on reusing and recycling our glass and we'll soon share the necessary information on our Facebook and Instagram!
dairy free
sugar free
gluten free
soy free
aditive free
Do you want to ask us something?
Nemléko s.r.o.
Nad Šutkou 540/14
182 00 Praha 8
IČ : 05621801
DIČ : CZ05621801
filed with the Municipal Court in Prague
Case number C 267513